– Demetria Limparis
Art Experiences By Mishkalo
How: What : Why: Where
COVID-19 hit the wedding industry hard. The wedding industry is usually recession-proof and the last pandemic we had was in 1918 where people did not rely on wedding planners or companies to make their day happen. Charu Swaminthan, the CEO of Mishkalo Art Experiences had to alter her company in a way to survive through a completely virtual world. That is when the journey for  art experiences baby Mishkalo began.
PAINT AND SIPS?
Paint and Sips have been around for some time but usually are held in an art studio that is open for anyone to come to join. Charu expanded this way of mingling and having a fun night but into a way for corporate companies to bond and team build. While strengthening the relationships in the workspace it is also showing people have to use Zoom as a form of pleasure instead of just work. These fun and interactive art experiences by Mishkalo  has altered the way companies can focus on a task together that is not just the same work that they do for their job.
WHAT TYPE OF CLIENTS MISHKALO HAS WORKED WITH:
WHERE MISHKALO'S CLIENTS ARE FROM:
EVERYWHERE! The clients we have connected with have not just been from the Chicago-land area but all over the world. We thrive off of making new connections with people from all corners of the globe to help spread this new, healthy way to bond in some of these darkest and lonesome times that we hopefully never will experience in our lifetime again.
WHAT ART EXPERIENCES MISHKALO HAS TO OFFER:
When a client arrives at Mishkalo Art Experiences website there you can find all the different packages Mishkalo has to offer.
There are specific paintings paired with beverages, cookies, and chocolates. For example, there is a package called "Monet & Merlot" where Mishkalo provides the Merlot wine and the artist instructs the group through recreating a Monet painting.
Another similar package offered is "Pint with Picasso" where clients enjoy craft beer that is sent to them while recreating a classic Picasso painting. This trend continues with more packages like "Canvas & Chocolate tastings" and "Canvas & Cookies". 
WHAT KIND OF PAINTINGS ARE OFFERED?
Once you have picked the package you like, we set a date and share the artist's portfolio so you and your group can pick what painting you all would like to do. We have a couple of artists working for Mishkalo that are all very talented with their work but even more so skilled instructors. Making the event and process of completing the painting stress-free.
HOW THE EVENT FLOWS: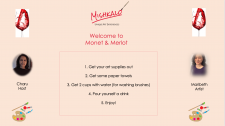 As the event begins and everyone is logging onto the Zoom, you are greeted by a welcome screen, with your company name and the Artist and painting for the session with relaxing music in the background while everyone is waiting for the event to commence. 
When everyone is settled in the host will begin by welcoming and thanking them for picking Mishkalo and introducing the staff. 
The host will explain that this is a time to relax, mingle and have fun with the group. Then they stress the importance of not worrying about how well the painting turns out and instead focusing on bonding with everyone through art! The host then hands the reins off to the artist to begin the painting session.
The artist will begin by explaining the kit that everyone got shipped to them by us. It comes with three canvases, a variety of brushes of different s  izes, and an array of acrylic paints. We use acrylic paints because they are very beginner-friendly. After all, they are very forgiving paints, they dry faster which makes it easy to paint over mistakes.
They will remind everyone to have one or even two cups of water to clean the brushes when switching between colors and some sort of napkin to dry the brushes. The host always adds in to separate your drink from the water cups in case you dip your brush in your drink on accident! (Unfortunately, it has happened before).
THE ARTIST'S INCITES:
The artists really stress on the techniques of handling acrylic paint. They explain how to open the paint bottles and how much should be put on your palette. They focus on the amount of paint that should be mixed with other paints to create the perfect color for each part of the painting. Aswell, the artists explain what way to stroke when painting and how to fix mistakes with water or even just painting over when the paint dries. 
HOW THE BONDING FLOWS: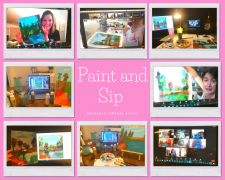 As the painting session continues, some brave souls will share the progress of their work with a giggle or a smile. The hosts are constantly keeping everyone on track and helping with keeping a steady pace with the session. 
As the canvas is covered with your unique interpretation of the painting, there is a show and tell at the end and everyone gets to share their finished product. Whether people are embarrassed or proud of their final product, everyone has a smile on their face. The host then tells everyone to hold up their canvas and get ready for a screenshot picture. 
CLOSING REMARKS AND REVIEWS: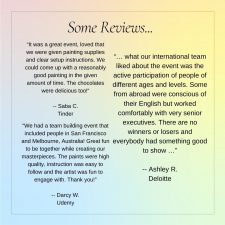 The picture is shared with the client and is also posted to Mishkalo's website. Mishkalo profits greatly off of word of mouth marketing and reviews that are left on the website. The option of leaving a review on the website is proposed. The host and artist express their gratification to the client for choosing Mishkalo Art Experiences.
For more fun art themed activities check out