– Demetria Limparis
Zoom has been introduced into the new "normal" daily life. We use it for work and school and it has become a necessity to everyone. Since Zoom is being used for more stressful aspects of one's life, why can't it be used for fun virtual events as well? The solution for this dilemma is hidden in plain sight. There is a stigma being created with zoom as it is a thing needed for work or school. Well, if it is going to bring stress and negativity to people's lives, let's spin it around and make zoom an enjoyable virtual event experience again. People forget that zoom was not just made for work and school but instead to bring people together when they cannot be physically.
Remember the feeling of getting your first bike, it was the first taste of independence ever in our lives. That bike was part of almost every childhood memory and if it was not for that bike, those great times would most likely never have happened. Now picture yourself a couple of years after getting that bike. You slowly began to resent your bike because the good times you were once making before stopped. They stopped because your peers were beginning to hang out with older people that can drive and a bike was no longer an ideal. The excitement to be able to ride and go anywhere you want every day quickly turned into dreading the thought of having to ride it to school or your job. Zoom, the video conferencing site that has taken over most people's lives in the past year, is like that bike. It was a fun new way of using technology but was then turned into a new way to work. We need it for our responsibilities and commitments but resentment towards it has become a mutual feeling from everyone that has to use it.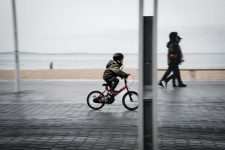 The negative stigma with zoom events can and most likely will be reversed in the near future. The pandemic happened out of nowhere and everyone was just thrown into the virtual events world without having a choice. People began to get excited that they could work from home because they saw it as more convenient, which was quickly regretted. The excitement of virtual meetings faded and the reality of taking for granted the times of being together physically hit hard.  
But, since the pandemic started virtual event planning has taken off bringing with it excitement for fun and interactive zoom virtual events for  individuals, families and companies to keep the employee morale up. One such virtual activity – At-home Paint and Sips are an easy fun way to get connected with friends during this pandemic. Paint and Sips consist of beautiful easy paintings while bonding over Zoom. This can be in place of a dinner date, a couples date night, company parties, or team bonding.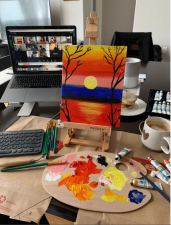 Mishkalo Art Experiences can do all the heavy lifting by providing an artist, options of paintings to pick from, and art supplies. It begins with Mishkalo sending your beginner paint kits that come with an assortment of acrylic paint, paintbrushes, and three canvases. Then when a date and time is set for the session, you get to invite your friends whether it is a couples date night or a close group of friends, you get to spend time bonding over Zoom. Not only do you get to see and interact with your friends you get to relax your mind by painting a beautiful, easy painting that can be used as a gift or piece of decoration.
The hour zoom virtual event will be filled with mingling, painting beautiful easy paintings, and sipping on a drink of your choice or even an assortment of chocolates. Mishkalo puts in the work to find the finest wines and chocolate assortments that are best suited for the event. Mishkalo's Paint and Sips provide the opportunity for people to stay connected through this pandemic in a fun and healthy way.