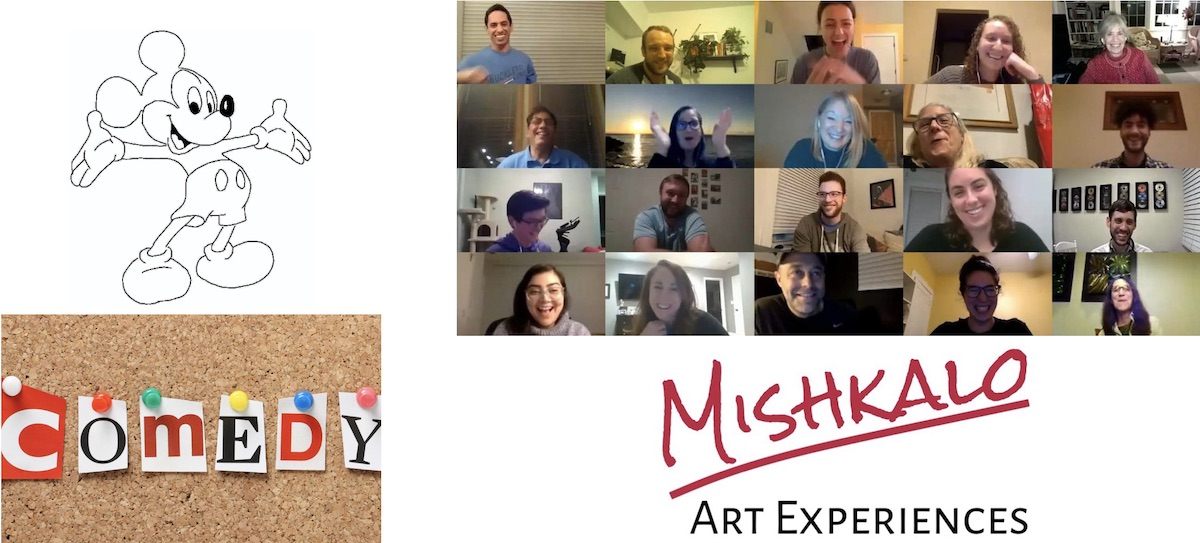 Looking to motivate and re-energize your team?
Help them unleash their creativity while socializing with each other. Mishkalo's widely popular art experiences guarantee a fun-filled session of creative socialization and team building like no other.
Suitable for corporate parties, team-building, business development, fund raising, holiday parties or any other occasion you can imagine!






"It was nice. I enjoyed working on the drawing and listening to the different stories that were supposed to be comedy (and were funny) but also had some interesting learning opportunities. It was nice to do something different for a change and connect with our co-workers. I believe events like this more often will help everyone be better employees. Work / Life Balance.
Begin by sketching everyone's favorite Disney Character Mickey Mouse with a professional artist guiding and entertaining you along the way. When finished sketching, prepare for an amazing interactive improv comedy session with a duo of professional comedians.
During the comedy session, participants will use the cartoons they have sketched to create hilarious improvised stories. Not only will participants be laughing and engaging with each other in a way you haven't seen before, but you will walk away from the session as better teammates, more creative problem solvers and more supportive active listeners.
Your business is unique and our program will be too (we haven't seen it all, but we've seen a lot – from funeral home staff to law firm partners and Fortune 500 sales teams to summer camp counselors. We will prep with you to align on content and goals before the event).
1 Professional artist.
1 Professional host.
2 Professional comedians.
upto 100 people.
90 minutes.
No delivery involved.
Contact us for more information