– Demetria Limparis
No restaurants, no problem. Let's get creative and talk about the new way to bond during a pandemic with date night paint and sips.
Lincoln Park, Chicago is home to a young couple Ted and Jane. They live in a one-bedroom apartment which can feel smaller than it already is at times. They both work full-time jobs and going out together after work on Fridays is what they look forward to every week.
Whether it is going to the Gold Coast for a nice dinner or just going to a local bar for drinks, they are always finding somewhere to spend time together. Since they both have a very busy work life, when they get home during the week they usually don't have much time to hang out and just end up crashing so they have enough energy for work in the morning.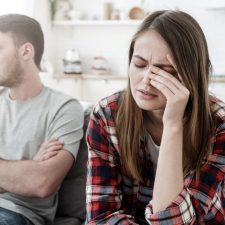 When the pandemic hit in March of 2020, Ted and Jane were forced to work remotely and began to spend more time together than usual. Soon after the stay-at-home order hit, the young couple began to bicker more and were having trouble with balancing their work and personal life. If they weren't procrastinating their work and distracting one another, they were annoyed by not being able to have alone time to finish their work. The worst part of this transition for Ted and Jane was not being able to go out for a drink or out to dinner. Before the pandemic, they cherished their time together and their date nights were very meaningful to them. They soon began to realize how much they took their life for granted before the pandemic. They want to get back into having date nights but have no idea where to start since going out in public was no longer an option.
The pandemic has forced us to stay at home and is halting us from leading normal lives. A specific part of people's lives that the pandemic has changed is by paralyzing any ordinary social interactions. Since the stay-at-home order and restaurants and bars closing, it has been very difficult for couples or even people who are single to do anything but sit at home on a Friday night. Not only young couples and singles that want to see their friends but also Gen-X and Boomers are being hit hard by this pandemic.
Since some of those age groups fall most at risk of contracting COVID-19, they are even more in a bind when it comes to seeing others. In order for people to lead a halfway normal life, people either have to go against CDC rules and host a gathering or risk going out in public. 
Something that Ted and Jane or any couple experiencing the same obstacles could try to spice up their relationship during this pandemic is date night paint and sips.
Date night paint and sips could be organized by Mishkalo for you and your significant other to have a relaxing but unique night together. This painting experience can be either with a cocktail, some wine, or beer.
Mishkalo gives you the option to BYOB or they can provide the type of beverage of your choosing. The Mishkalo staff put much time and effort into providing the best drink for their clients, never settling for anything less than perfection.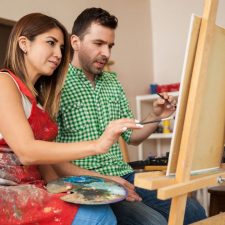 If you and your significant other do not consume alcohol, Mishkalo has an array of other options to pair with painting. Some of those options include cookies, cold brews, and a company favorite, chocolate. The canvas and chocolate tasting event option provide a half and half experience of chocolate tasting and painting. Mishkalo partnered up with Gourmet Boutique to serve the most delicious chocolates for you and your partner.
Whether your paintings are paired with a drink or chocolates, you and your significant other will be able to bond over both parts of the experience. You will get to create a beautiful, easy canvas together while enjoying a tasty treat of your choosing. Mishkalo can provide an enjoyable hour of date night paint and sips for couples in need of something to spice up their quarantine life.
For more Date Night Paint and Sips check out