– Demetria Limparis
The perfect summer
DIY Cocktail
WHERE? – Let's set the scene for your DIY Cocktail experience…We are in the middle of the summer and putting some ice cubes in a glass of that cheap bottle of Moscato you always get is not gonna cut it anymore for yourself and whomever you have over. You need a refreshing and unique drink that you can whip up for a relaxing night on your patio with friends or even for a date night with your significant other. 
WHY? – What are you going to get out of a DIY cocktail rather than an alternative? You do not have to spend a lot of money to make a trendy drink. Whenever someone wants to have a trendy drink, they will usually go to a nice restaurant and order one that is way too overpriced. Making one for yourself is more cost-efficient and is a fun activity for you and your friends or date on a hot summer night.
WHO? – Who else would this benefit other than myself? If you decide to "DIY" it for your date night, it will give you guys a fun activity for the night or even can just be a conversation starter. You guys can make it together as a bonding activity and then enjoy it after with dinner. Even if you decide to make it yourself, it is a way to show your gratitude for being able to spend time with that person. They will feel appreciated and thought of because you went out of your way to make a special drink for your guy's  summer night together.
HOW? – According to Drizly.com's blog 7 Simple Date Night Drinks for Summer, they got to share a couple of drink recipes made by mixologists. These drinks were created from a "talented crew of Top Shelf Bloggers" (Drizly) that created simple but delicious cocktails. 
Two cocktails that stuck out were the Mimosa Mojito and the Rosé and St. Germain Cocktail.
The Mimosa Mojito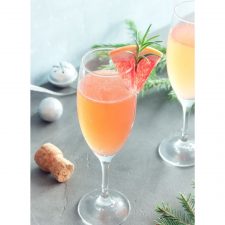 Photo credit: drizly.com
This fun but strong combination of a mimosa and a mojito was made by Bright Eyed Baker. The ingredients are as follows:
Moet & Chandon Imperial Brut Champagne

Captain Morgan White Rum 

Fresh mint

Lime juice 

Orange juice

Simple syrup

Ice
To begin making this drink, combine the lime juice, mint, and sugar together. After combining them all together in a cocktail shaker, smash up the mint leaves. By smashing the mint leaves, the mint's strong flavors are able to come out and give the drink that minty accent. Then to continue, add two ounces of rum, two ounces of orange juice and a half-ounce of simple syrup. After that is all well shaken, pour the mixture over a glass filled with ice and add a mint leaf to top it off. 
This is the perfect summer cocktail for a girl's night, brunch, or even with a date. With a refreshing but powerful taste, this will quickly become your go-to drink for not just summer but any time of the year.
Rosé St. Germain Cocktail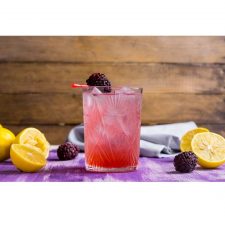 Photo credit: drizly.com
This recipe by Charmingly Styled was inspired by the signature summer wine, Rosé. The ingredients for this masterpiece are:
Barefoot Rosé

St-Germain Elderflower Liqueur

Lime

Blackberries

Simple syrup
Begin with combining a cup of rosé, two ounces of St. Germain, and all the juice from half of a lime. After thoroughly stirring all three of those ingredients together, muddle your blackberries at the bottom of each glass that is going to be served. Add the rosé and st. Germain mixture to each glass and add a couple of berries and fresh lime slices to the top. This drink gives off a more party vibe for a bridal shower or even just a girl's night out.
Either of these cocktails would fit perfectly with Mishkalo's Canvas and Cocktails! Mishkalo Art Experiences offers a joyful, relaxing hour of art and enjoying your favorite drink. You can find all of the different Paint and Sip options at mishkaloartexperiences.com. 
For more fun art themed activities check out